Steam Services of America is proud to offer the following products and services: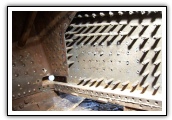 Staybolts:
Ridgid Bolts, "D' and "K" Head Flexible Bolts, Straight Crown Bolts, Taper Head Crown Bolts, Button Head Crown Bolts, Staybolt Bar Stock
Sleeves and Caps:
Type "D" Cap, Type "A" Cap, Type "K" Cap, Alco Cap, Type "KWS" Cap, Type "MKS" Cap, Type "WR" Cap, Type "FWR" Sleeve, Type "FW" Sleeve, Type "KLWM" Sleeve, Type "KW" Sleeve, Type "UW" Sleeve, Type "WR" Sleeve, Type "KN" Nuts, Steam Bronze Wash Out Plugs 12 TPI and 14TPI, Huron Wash Out Plugs, etc.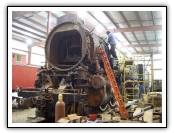 Superheater Units and Parts:
Type "A", Type "E" - 1 3/8" & 1 ¼" Return Bends, Bands, Ball Ends, Shields, and Complete Units
Staybolt Cap Coppers:
All sizes available
Grease:
Block and Stick Hard Grease.
New and Used Appliances and Parts:
Air Pumps, Steam Turbines, Injectors and Nozzles, Safety Valves, Lubricators, Whistles, Head Lights, Gauges, Boiler Checks, Nathan "DA" Checks, Grease Guns and Button Head Grease Fitting, and more.
Boiler Work:
On Site Boiler Repairs and Inspections, Boiler Rebuilds, Custom Flanging, Repairs and Alterations, Form 4 Inspections and Calculations, Riveting, Staybolt Installation, Sleeve Installation, Stud Installation, Water Glass Installation, Wash Out Plug Installation, Tube and Flue Installation.
Consulting and Contract Work:
Steam Services of America is available to provide Project and Management Leadership Skills, for Inspections, Training, Engineering Services, Rebuilding, Restoration, Operations, for any size project, in any location, at any level of funding and staffing required.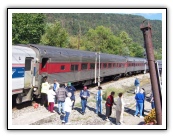 Passenger Cars
Steam Services of America is available to handle all your Passenger Car needs. SSOA has Cars for Lease, for Sale and can rebuild, repair, maintain, do on-site repairs and maintenance or prep and car movement.
Prices are subject to order quantity, type of parts, delivery schedule and type material. All orders are custom. Please call or e-mail for pricing and quotes